2022
Materials: Mixed technique. Embroidery. Punch needle on cloth.

Size: 14" x 16"

 All purchases of artwork are handled directly between the buyer and the artist Contact.
Two years of exploration and research in grad school led me to the relationship between objects and non-heteronormativity. This encouraged me to create the object itself and to actively probe gender relations. Textiles, particularly rugs, have always inspired me through their mystifying imagery and untold stories, including myths from various lands and times. Relief and mono printmaking, as well as embroidering and tufting yarn, are artistic practices and techniques that inspire me and have motivated me to build a core for my art practice. 
In my recent works, non-heteronormative appearance is highlighted through myths of ancient Greece and Mesopotamia. I work in large sizes to expand the contextual and visual strength of the work and often receive inspiration from my childhood drawings.  With gender-ambiguous mythical figures, I aim to demonstrate that non-binarity and gender-fluidity are ancient notions and to explore gender relations, using eye-catching color palettes to celebrate queerness. Ultimately, I hope to expand beyond textiles and prints to find more far-reaching ways to conquer society's bias against non-normative people.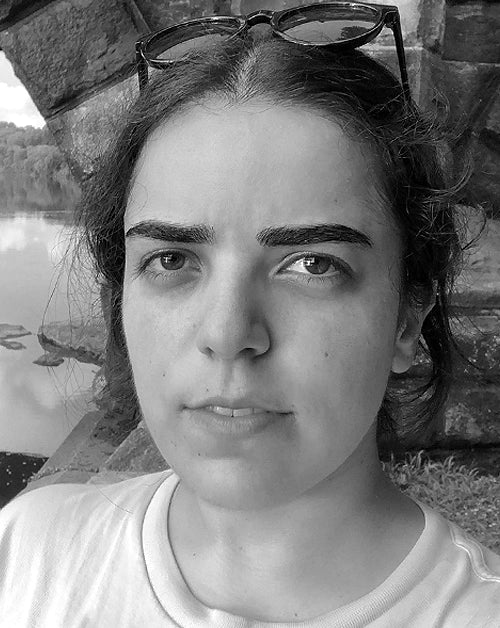 Basak's work was selected for the "PEOPLE" group exhibition at FRIEDA (June 2022 – August 2022). She also participated in one of our ongoing community art projects

Basak Kilicbeyli is a visual artist and graphic designer from Istanbul, Turkey, where she earned a B.F.A. degree from Yeditepe University. After working as a freelance designer and for many non-profit organizations in Turkey, she lived in France and traveled in Europe, reinventing her skills and creative process. She is now living, exploring, and creating in Philadelphia and recently received her M.F.A degree from the Pennsylvania Academy of the Fine Arts.
You can find more of Basak's work at their website.
Disclaimer
While every care has been taken to ensure that our product information is accurate, we recommend that you always check product labels and packaging prior to use. Atelier items may vary in their shape, color, or size. The sale of artwork will be handled by the purchaser directly with the artist. Please note that all accessories, as well as additional items and/or ingredients pictured here with the product you are purchasing, are not included. All content and information provided here is for personal use only. It may not be reproduced in any way without FRIEDA's prior consent.