2018-21
Materials: Acrylic on Canvas
Size: 48" x 36" 
All purchases of artwork are handled directly between the buyer and the artist Contact.
My work is about social issues that deal with double standards, ownership, identity and gender. I mostly focus on my experience as a woman. I'm interested in treating these important matters with the respect they deserve while at the same time giving them comical undertones that range from literal to conceptual. I work with my own image and experience because it is what I know best, I believe the personal is the political hoping that my experiences might resonate with others. These self-portraits deal with obsession and the pressure felt to behave a certain way. 
The aim of the work is to shine a light on how ridiculous some standards are for women. By painting self-portraits, I'm confronting the image I have of myself with what I'm expected to be. I chose painting for this project instead
of other mediums because want to reinforce the idea of obsession making the brushstrokes visible allowing the viewer to imagine and deduct how much time was spent on each piece. My color palette consists mostly of pastels colors because even though the subject matters I'm working with is gloomy I want the final pieces to be able to attract people like candy would; only realizing its dark under- tones after a closer look.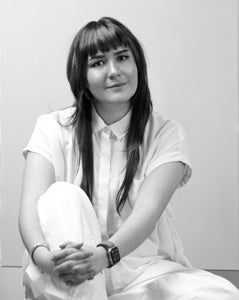 Katty's work was selected for the "PEOPLE" group exhibition at FRIEDA (June 2022 – August 2022).

Katty Huertas is a multidisciplinary artist born in Colombia and based in Washington DC. She holds an M.F.A. degree in graphic design from Maryland Institute College of Art. Her work explores identity, folklore, and double standards, among other subjects. She combines analog and digital mediums such as painting, sculpture, fiber work, book arts, digital drawing, and animation to develop the final product.
You can find more of Katty's work at her website.
Disclaimer
While every care has been taken to ensure that our product information is accurate, we recommend that you always check product labels and packaging prior to use. Atelier items may vary in their shape, color, or size. The sale of artwork will be handled by the purchaser directly with the artist. Please note that all accessories, as well as additional items and/or ingredients pictured here with the product you are purchasing, are not included. All content and information provided here is for personal use only. It may not be reproduced in any way without FRIEDA's prior consent.