2021
Materials: Paint markers on paper. Wooden frame (hanging)
Size: 4" x 6" (unframed) – 6.26" x 8.25" (framed)
All purchases of artwork are handled directly between the buyer and the artist Contact.
My body of work spans a variety of mediums, including digital painting, watercolor, gouache, graphite, and ink. Though my style varies, I am consistently enamored with the interplay of light and shadow, line and contour, and blocks of color. There are many unique and beautiful ways that these elements interact in nature, and I try my best to capture those interactions and intersections. My style stays near to realism, though I try to experiment slightly with stylization and abstraction. 
The focus of my work captures subject matter relating to the home, whether self-portraiture, plants, or a literal house. I use self-portraiture in particular as a way of exploring what it means to be human, and more specifically, what it means to be myself. For the past eight years, I have been attending therapy regularly, and this has had a great influence on my art. I see my artwork as an extension of my self-reflection and healing journey.
When I was younger, I often felt unseen, overlooked, and underappreciated. Therefore, my self-portraits are not only introspective, but they also force the viewer to reckon with me as both a creator of my work and as a fellow human. I like to imagine that my self-portrait is staring into the viewer's soul, trying to communicate something. Perhaps that something relates to the simple fact that I am here, that I exist, and that I can also observe.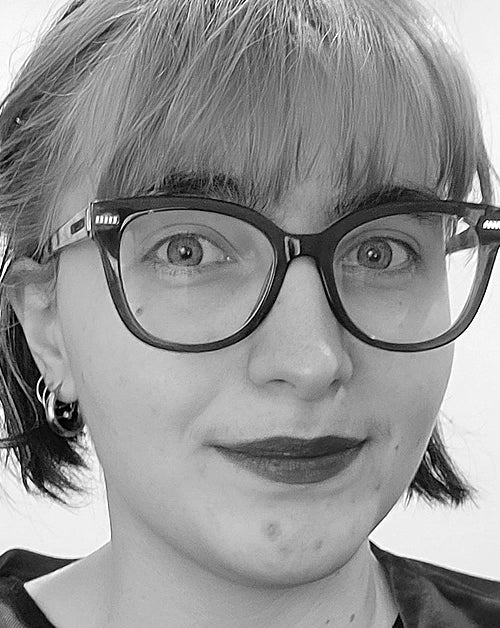 Emma's work was selected for the "PEOPLE" group exhibition at FRIEDA (June 2022 – August 2022). She also participated in one of our ongoing community art projects "The FRIEDAcommunity neighborhood map".

Emma Randall graduated from the Pennsylvania Academy of the Fine Arts in 2022 with a B.F.A. degree in painting. At PAFA she received the Linda Lee Alter Award for outstanding achievement in Women's Art.
Disclaimer
While every care has been taken to ensure that our product information is accurate, we recommend that you always check product labels and packaging prior to use. Atelier items may vary in their shape, color, or size. The sale of artwork will be handled by the purchaser directly with the artist. Please note that all accessories, as well as additional items and/or ingredients pictured here with the product you are purchasing, are not included. All content and information provided here is for personal use only. It may not be reproduced in any way without FRIEDA's prior consent.