Photography, 2022
Materials: Print. Wooden frame

Size: 5" x 7" (unframed) – 9" x 11" (framed)

All purchases of artwork are handled directly between the buyer and the artist Contact.
"During a war the life of civilians is levelled."
I heard this phrase and began to reflect on it. The sun was shining and the whole world seemed ready to give birth to a new life. The war and the spring. Warm sun after sheltering in the cold underground. The delight of coffee during air strikes. Distant explosions and early birds chirping. Scared faces and the first spring flowers forcing their way through the grey soil. Every day I keep my eyes and my heart wide open to absorb as much of life's diversity as I possibly can. Nothing like war devalues human life. And it is war that fills me with happiness and acute gratitude for just being alive now. I'd read and heard it multiple times and still couldn't wrap my mind around this whole "happiness in simple things" concept. That is, not until 5:10 a.m., the 24th of February, 2022. I woke up with a start and at once my heart filled with the horror of realizingthat this is It. The worst has happened. It was a month ago. But the scars will last forever. March, 24 2022
I stood in front of the window with the wilted roses I received as a surprise gift on March 8 from Ukrainian soldiers – our guardian angels – in Kyiv's underground. The leaf that hides my face is like a shade of war that blurs any human identity. And my hyper-sensitive skin that reacts violently to every single touch is dermographic urticaria (red, itchy welts that result from a skin reaction). I've never had it before. But just before the war broke out, I was diagnosed with this condition, which persists today. What a metaphor.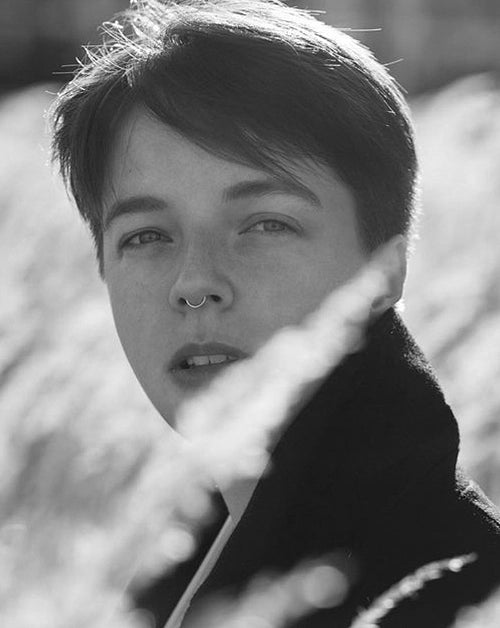 Anastasia Kondratiuk is represented by Karina Smyrnova, who also participated in the artist talk "The unseen" on June 4.

Anastasia's work was selected for the "PEOPLE" group exhibition at FRIEDA (June 2022 – August 2022).

Anastasia Kondratiuk was born in the Autonomous Republic of Crimea, Feodosia, Ukraine in 1991. She graduated at Tavrida National V.I. Vernadsky University and earned Philology of the English language master degree. She had been living in Crimea till 2014 and then moved to Kyiv, Ukraine when Euro Maidan and the occupation of her hometown had happened. She has been living in Kyiv since then.  Anastasia is a Quality Assurance engineer, working in the IT sphere. But also she's been a photographer for 12 years mainly dedicated to the portraiture"
Disclaimer
While every care has been taken to ensure that our product information is accurate, we recommend that you always check product labels and packaging prior to use. Atelier items may vary in their shape, color, or size. The sale of artwork will be handled by the purchaser directly with the artist. Please note that all accessories, as well as additional items and/or ingredients pictured here with the product you are purchasing, are not included. All content and information provided here is for personal use only. It may not be reproduced in any way without FRIEDA's prior consent.