2022
Materials: Photography.

Size: 11" x 14"

All purchases of artwork are handled directly between the buyer and the artist Contact.
The process of making art is a bit like having a heart to heart with an invisible friend who either gets it or, if not, still lets me continue without judgment. What always stumps me is when viewers ask, "Would you say your work reflects feminism?" Outside of the fact that I identify myself as a woman and express myself from that standpoint, I truly do not have a clue! I made my first drawing when confined to a hospital bed in remote Bihar, India, having temporarily lost mobility because of incorrect diagnosis and treatment. The tension between iconic unity and digital fuzziness, between the uncontaminated original and its inevitable decay intrigues me. I explore the paradox between the recognizable and the faceless, between personal and depersonalized identity through substitution, mediation, and commoditization. I draw from mythology, icons, politics, pop culture, ads, and signage to give form to the culture of perception. I capture part of humanity in its organic flourish and traditions that grow out of local resources, community living, and livelihood. This way of life is quickly getting replaced by large faceless franchises bereft of homegrown roughness and warmth.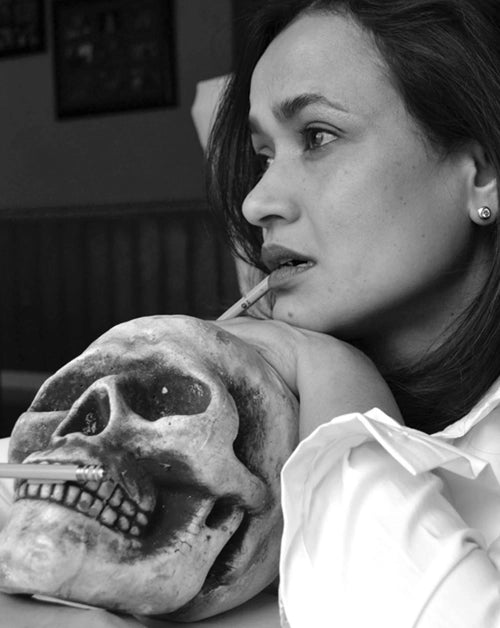 Tanja's work was selected for the "PEOPLE" group exhibition at FRIEDA (June 2022 – August 2022). She also participated in one of our ongoing community art projects "Dishing out stories".

I embraced fine arts as a second lease on life here in the U.S., far from my birth city of Kolkata in India. My works have shown at many museums and galleries, including The Newark Museum of Art (NJ), The Royal Scottish Academy, Tate (UK), Mumbai Museum (India), Torpedo Factory Art Center (VA), Monmouth Museum (NJ), Haggin Museum (CA), Lalit Kala Academy (India), Feminist Art Project (NJ), Da Vinci Art Alliance (Philadelphia), and Brooklyn Waterfront Artists Coalition. I have curated several exhibits with an emphasis on inter-disciplinary art and have collaborated in experimental dance/art at Swarthmore College and performance art at SOHO20 Gallery in Brooklyn. I have a master's degree in communication arts and an M.B.A. degree from New York Institute of Technology., I also have extensive experience in printmaking . After more than 20 years in the New York ad industry, I turned to teaching and art therapy in 2001. I taught advertising design at the College of St. Elizabeth (NJ) and have practiced art therapy with autistic children.
You can find more of Tanja's work at her website.
Disclaimer
While every care has been taken to ensure that our product information is accurate, we recommend that you always check product labels and packaging prior to use. Atelier items may vary in their shape, color, or size. The sale of artwork will be handled by the purchaser directly with the artist. Please note that all accessories, as well as additional items and/or ingredients pictured here with the product you are purchasing, are not included. All content and information provided here is for personal use only. It may not be reproduced in any way without FRIEDA's prior consent.