2022
Materials: Acrylic on canvas

Size: 20" x 24" 

All purchases of artwork are handled directly between the buyer and the artist Contact.
As an adopted Latina woman, I have been attempting to pave a path to find my own identity within Latinidad. Creating art is always a form of self-expression, in my case, demonstrated by continually painting Latinx people and images. It took me a while to figure out why I was drawn to these subjects and portraits, but I now realize that I have been painting as a way to connect to a culture that I never felt or was entirely connected to. My upbringing was with a Jewish family from New York. Although it was beautiful and loving home, I have always used my art to showcase something that was unfamiliar to me growing up in a majority rural community in Southern Vermont. 
I am drawn to bold color. I use my colors to help convey emotion and carry meaning. I hope people can view my art and know who the artist is that created it. I aim to create a sense of cohesion and curiosity with my images, leaving the viewer wanting to see more.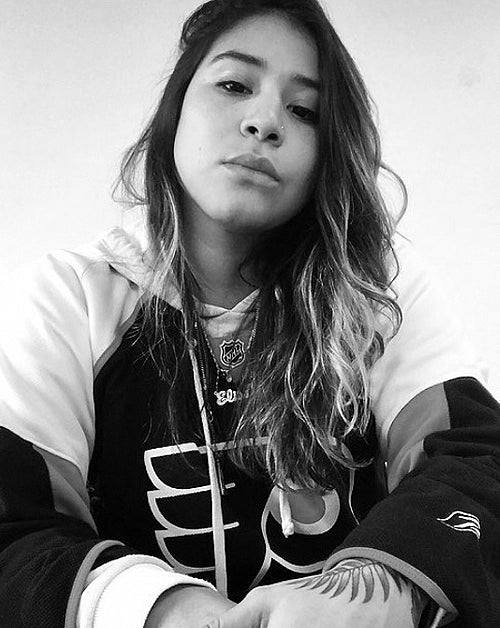 Elisa's work was selected for the "PEOPLE" group exhibition at FRIEDA (June 2022 – August 2022). She also participated in one of our ongoing community art projects "Dishing out stories".

Elisa Tavella earned a B.A. degree from Temple University, combining her many interests through a double major in Spanish literature, language & linguistics and Latin American studies as well as a studio art minor. She spent a semester in Peru in the Indigenous Peoples and Globalization Program of the School for International Training. She currently works for the City of Philadelphia Department of Public Health's Lead and Healthy Homes Program. Elisa lives in Philadelphia and finds inspiration for her art from the city landscape, the people in her life, and other artists.
Disclaimer
While every care has been taken to ensure that our product information is accurate, we recommend that you always check product labels and packaging prior to use. Atelier items may vary in their shape, color, or size. The sale of artwork will be handled by the purchaser directly with the artist. Please note that all accessories, as well as additional items and/or ingredients pictured here with the product you are purchasing, are not included. All content and information provided here is for personal use only. It may not be reproduced in any way without FRIEDA's prior consent.