2021
Material: Mixed Media on Canvas
Size: Two Panels, 24″ x 36″ each
All purchases of artwork are handled directly between the buyer and the artist. Contact.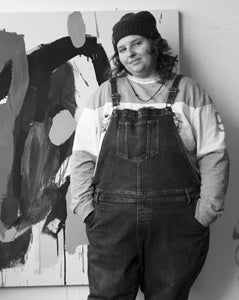 Ash-Bob was selected for A closer look at FRIEDA (February – March 2022).

She also shared her artistic way of thinking during the Meet the artist event on March 10, 2022. Ash-Bob is a Philadelphia-based artist originally from Northern California. Ash-Bob works primarily in abstract forms, finding the beauty in the contradiction between simple and complex forms. Ash-Bob began artmaking in 2014 with an aim to connect to a global audience, a desire she acquired after spending several years working with a non-profit in Western Australia. She graduated in 2019 with a BFA degree from the Pennsylvania Academy of the Fine Arts in Philadelphia. You can find more of Ash-Bob's work at FRIEDA at 320 Walnut Street or check her website.
Disclaimer
While every care has been taken to ensure that our product information is accurate, we recommend that you always check product labels and packaging prior to use. Atelier items may vary in their shape, color, or size. The sale of artwork will be handled by the purchaser directly with the artist. Please note that all accessories, as well as additional items and/or ingredients pictured here with the product you are purchasing, are not included. All content and information provided here is for personal use only. It may not be reproduced in any way without FRIEDA's prior consent.