Material

: Oil on canvas 
Size

: 48" x 36" (unframed)

 

Jean was the featured artist for A closer look at FRIEDA (March 2017). She also shared her skills with the community during the workshop "Picture prompts for writers" with Anthony Latess, J.p on June 4 2017.

Jean K. Hamburg is a Philadelphia abstract expressionist painter who's been creating all her life, from painting as a child in the 1930s to work produced last year. She is an alumna of Moore College of Art & Design and the range of her adult paintings spans every decade of her life so far. Jean uses acrylics and watercolor and considers herself a "colorist" as she creates custom pallets for each painting.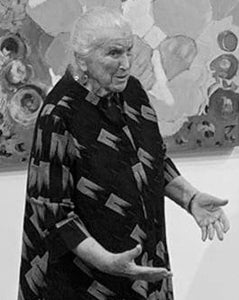 Jean Blumberg was selected for A closer look at FRIEDA (October – November 2021).

She also shared her artistic way of thinking during the Meet the artist event on October 14 2021. Jean was born in New York City and grew up in Larchmont, NY. She graduated from Case western University with a MS in Biology. She met her husband Barry Blumberg while working in a lab at Bellevue Hospital where he was doing his residency in internal medicine. She has lived in Phila for over 55 years. When her children were in school, she began her training at PAFA. Many of her friends today are from her time . She has exhibited her work in many galleries in the Phila area. Jean Blumberg holds a BS and MS in Chemistry from Case Western Reserve University in Cleveland, Ohio. She studied with printmaker Marty Zelt at the Philadelphia Museum of Art and with Jimmy Leuders, Liz Osborne, and others in the certificate program at the Pennsylvania Academy of Fine Arts. She has exhibited in Oxford, England and at local and national galleries in the United States.
Disclaimer
While every care has been taken to ensure that our product information is accurate, we recommend that you always check product labels and packaging prior to use. Atelier items may vary in their shape, color, or size. The sale of artwork will be handled by the purchaser directly with the artist. Please note that all accessories, as well as additional items and/or ingredients pictured here with the product you are purchasing, are not included. All content and information provided here is for personal use only. It may not be reproduced in any way without FRIEDA's prior consent.