Materials: Acrylic on Mylar. Wooden frame (hanging)
Size: 24" x 36" (framed)

All purchases of artwork are handled directly between the buyer and the artist Contact.
When working in portraiture, I am driven by the immediacy of conversational interactions with my models. To paint from life, I use acrylics on Mylar. Mylar offers a durable glass-like surface that encourages hand and finger painting along with the brushwork, while simultaneously allowing freedom to make mistakes. When mistakes start piling up, I pick up sponges and blades in an attempt to correct them, using hasty, spontaneous motions that inevitably leave traces, unpredictable and suggestive, and other artistic accidents. This make the whole process both fun and exhausting.
In the painting called Maria, the background deserves a special mention. It is a collage made with another artist's leftovers and is sandwiched between the corrugated board and transparent sheet of Mylar. Mark Khaisman, who shares studio space with me, granted me an exclusive permission to recycle the scraps of his originally painted tape in my projects.
While not necessarily photographically precise, my portraits communicate the individuality of my models that was captured during our sessions.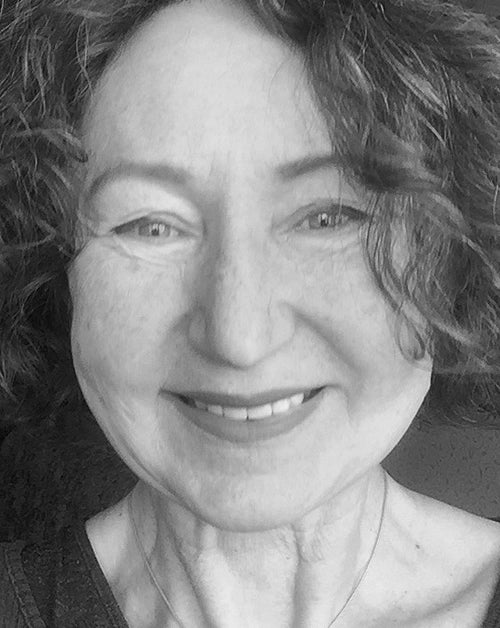 Elena's work was selected for the "PEOPLE" group exhibition at FRIEDA (June 2022 – August 2022).

Elena Drozdova graduated from the Moscow Architectural Institute in 1981. This school, in the former USSR, was famous for offering broad training in art disciplines along with an architectural education. In 1989, I immigrated to the U.S. with my husband, Mark Khaisman. With no start-up money or even working papers, I taught myself English, while contributing to making a living, and gave birth to three children born one after another within four years. This period of my life, along with my Russian/Soviet childhood, shaped me into the person and artist I am. Through the 1990s and early 2000s, I worked as a painter at various stained glass studios. I learned the craft by observing other painters, studying historic stained glass in various museum collections and following tutorials. Exploration in fertile fields of European, American, and world-wide art traditions, both elite and folk, historic and contemporary, initiated me into the panorama of visual languages. My fine art breakthrough happened spontaneously with a series of large canvases portraying the life of a mother in a burst of visual expressions of poignantly honest, angry, and shamelessly sexual images of mostly female figures that broke my artistic silence. My debut exhibition lasted only one day. I worked more than a decade co-authoring art with adults with intellectual disabilities, developing the "tape painting" technique that I still use today. In the same decade I adopted Mylar and Yupo as the base for my acrylic paintings whose texture resembles glass and invokes techniques from my stained glass era. I recently started working in portraiture, inspired by such artists as Alice Neel and Marlene Dumas. I was driven by my fascination with facial expressions, and I like when my models feel free to converse with me during sittings. I have been a member of the Artessa Alliance, a Philadelphia area alliance of women visual artists, since 2017.
You can find more of Elena's work at her website.
Disclaimer
While every care has been taken to ensure that our product information is accurate, we recommend that you always check product labels and packaging prior to use. Atelier items may vary in their shape, color, or size. The sale of artwork will be handled by the purchaser directly with the artist. Please note that all accessories, as well as additional items and/or ingredients pictured here with the product you are purchasing, are not included. All content and information provided here is for personal use only. It may not be reproduced in any way without FRIEDA's prior consent.