2018
Materials: Water based monotype print. Wooden frame (hanging)
Size: 7.5" x 9.5" (unframed) – 11" x 15" (framed)
All purchases of artwork are handled directly between the buyer and the artist Contact.

These pieces were part of a series that began as a collaborative project with a photographer friend of mine about five years ago. We both live and work in New York City and like to wander around the various neighborhoods, taking in the people, the architecture, the typography, the vibe. We were working independently but would meet up every month to discuss what we had learned and seen on our excursions. I was mainly walking around 125th Street in Harlem, taking photos that I later translated into drawings and then, ultimately, into these monotype prints. I developed my own method for making these one-of-a-kind works, using an etching technique for the black line, which was then pressed over the water-based color print. This deliberate and detailed way of working felt compatible with the mood of these visually complex, yet quiet and somewhat lonely, street scenes. For me, what happens in this city when people and signage and architecture converge into a singular moment is endlessly fascinating, and it can often tell a deeper story about the city and her people.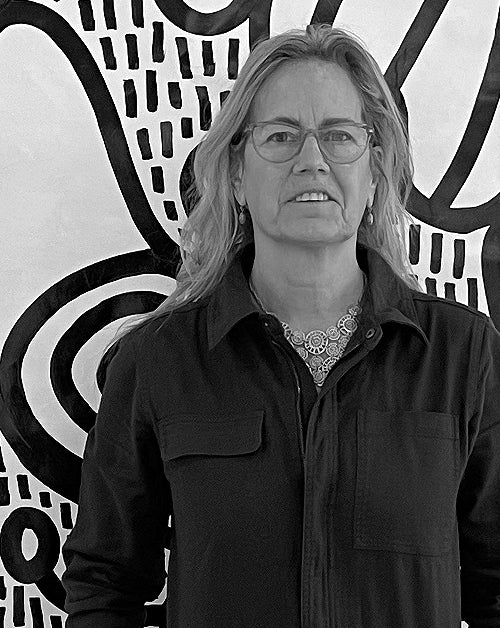 P.W.'s work was selected for the "PEOPLE" group exhibition at FRIEDA (June 2022 – August 2022). She also participated in one of our ongoing community art projects "The FRIEDAcommunity neighborhood map"

P.W. Prichett has a B.F.A. degree from Rhode Island School of Design, where she studied glass, sculpture, and filmmaking. She is an active artist member of the Muse Gallery in Philadelphia as well as principal and co-owner of 40N47 Design, Inc., a visual design services company in New York City. Her work as an illustrator has appeared in publications including The New York Times, San Francisco Chronicle, The New Yorker, Sierra Club, Newsweek, as well as in books, music CDs, commercial print pieces, and digital media applications.
You can find more of P.W.'s work at her website.
Disclaimer
While every care has been taken to ensure that our product information is accurate, we recommend that you always check product labels and packaging prior to use. Atelier items may vary in their shape, color, or size. The sale of artwork will be handled by the purchaser directly with the artist. Please note that all accessories, as well as additional items and/or ingredients pictured here with the product you are purchasing, are not included. All content and information provided here is for personal use only. It may not be reproduced in any way without FRIEDA's prior consent.