This carré comes in three sizes, as a neck scarf or as a medium and extra-large square.  The design captures what FRIEDA is about, colorful and diverse pixels coming together to shape a beautiful, loving heart.
Size: Neck square (16 x 16) – Medium square (36 x 36) – Extra Large square (50 x 50)
Material: Poly Chiffon (100% polyester light weight plain weave fabric)
Use and Care: Hand wash cold water with a mild detergent, hang to dry. Can be dry cleaned. Do not bleach.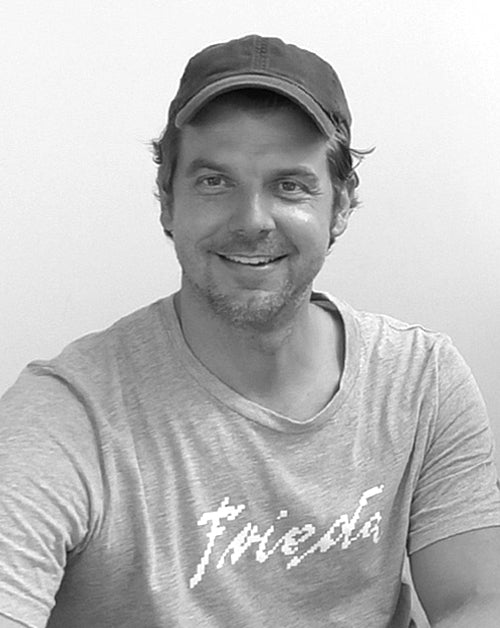 Thomas Steinborn is a co-founder of FRIEDA. He is responsible for FRIEDA's look. Starting with the pixelated logo, Thomas used the pixel to define FRIEDA's visual language and effectively communicate the power of community. As the number of pixels grows, so does the number of possibilities to combine them, translating into this immense creative potential. Thomas is a graduate of the Fachhochschule Darmstadt, Germany. He has enjoyed the benefits of a unique career in communication design, having worked in Germany, Spain, Australia, France…and, since 2014, the United States.
Disclaimer
While every care has been taken to ensure that our product information is accurate, we recommend that you always check product labels and packaging prior to use. Atelier items may vary in their shape, color, or size. The sale of artwork will be handled by the purchaser directly with the artist. Please note that all accessories, as well as additional items and/or ingredients pictured here with the product you are purchasing, are not included. All content and information provided here is for personal use only. It may not be reproduced in any way without FRIEDA's prior consent.