Materials: Mixed media textile
Size: 53" x 53"

All purchases of artwork are handled directly between the buyer and the artist Contact.
As a child artist, I began stitching under the influence of my third-grade art teacher and early mentor, Joan Veleff, who also awakened my desire to teach. I noticed that she enjoyed travel and studio time in the summer and was not dependent on the financial support of a husband. Under her direction, my artistic talent developed… a lucky thing, because I could barely learn to read.
Travel has always been a source of inspiration, particularly close-ups of antiquity in Venice, Antonio Gaudi's architecture, Moroccan tile patterns, and glorious sites like Machu Picchu. My background in weaving informs a love of repeat pattern, and hand embroidery or obsessive sewing machine stitching are prominent in my work, because empty space makes me a bit nervous. I enjoy deconstructing familiar images and text so that they can be "read," but not logically, and abstracting familiar yet provocative forms.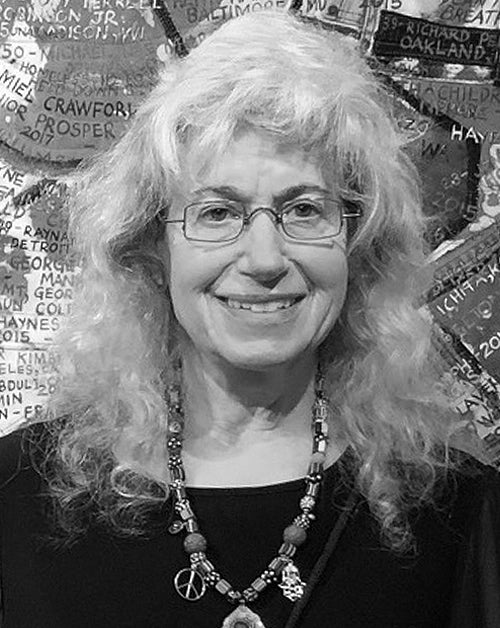 Barbara's work was selected for the "PEOPLE" group exhibition at FRIEDA (June 2022 – August 2022). She also shared her skills with the community during the "Quilt workshop on June 7.

Barbara Schulman is a full-time studio artist residing in Bethlehem, PA, with a B.A. degree in art education and an M.F.A. degree in fiber arts from Kent State University in Ohio. She was Professor of Art and head of the fibers program at Kutztown University from 1992-2011, and has taught at several other universities around the country. Her work has appeared in numerous exhibitions and publications throughout the U.S. and abroad and is in many public and private collections. She also lectures and give workshops on fiber arts.
You can find more of Barbara's work at her website.
Disclaimer
While every care has been taken to ensure that our product information is accurate, we recommend that you always check product labels and packaging prior to use. Atelier items may vary in their shape, color, or size. The sale of artwork will be handled by the purchaser directly with the artist. Please note that all accessories, as well as additional items and/or ingredients pictured here with the product you are purchasing, are not included. All content and information provided here is for personal use only. It may not be reproduced in any way without FRIEDA's prior consent.