2022
Materials: Oil on Canvas
Size: 30" x 40"
All purchases of artwork are handled directly between the buyer and the artist Contact.


My work sets out to capture the human soul. When someone looks at my work, I want them to wonder what it is that the person on the canvas is thinking. I want the viewer to be drawn to the subject's uniqueness. What is that twinkle in their eye? What secrets are they hiding? What are they saying without saying a word? I expect my audience to ultimately marvel at the gift of humanity when viewing my work. There may be billions of us on the planet, and so many that have come and gone, but we each have unique stories that are worth being told and no two are completely alike. That is why I do what I do. With my current body of work, it is the perfect blend of my love of music and portraiture. When you hear great music, you are listening the the artist bear their soul, just like I do with a paintbrush. As I'm creating these works of art, I find myself listening to these artists' records and hearing how they painted silence with their instrument. Even when painting a non- musician, music is an integral part of my creative process in that it shapes every brush stroke, the harmonies give insight into the color blending. It all works together to create an artistic experience.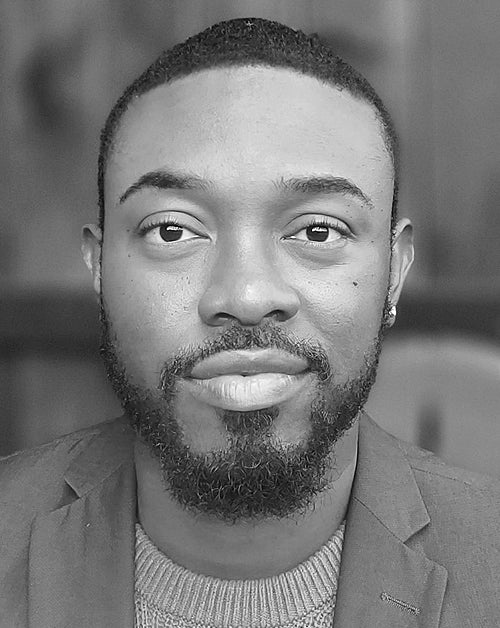 Jamel's work was selected for the "PEOPLE" group exhibition at FRIEDA (June 2022 – August 2022). He also participated in one of our ongoing community art projects "Dishing out stories".

Jamel Carroll began showing promise in the visual arts at the age of 2. He studied Graphic Communications in high school where upon graduating he received the Connecticut Association of Schools Arts Award and the Jostens Award. He has been working as a freelance graphic designer for the last 11 years. He has also illustrated seven children's books since 2015.  In 2019 he completed a wall mural at the entrance of Pace University's Burnbaum library (NYC Campus) and was also the recipient of the library's card catalog art contest and its cash prize. He currently works full time as an Elementary Art Teacher among his other endeavors. Besides art, he loves to sing, play the piano, read, ride his bike and travel. He holds a Bachelors Degree in Art from Pace University. 
You can find more of Jamel's work at his website.
Disclaimer
While every care has been taken to ensure that our product information is accurate, we recommend that you always check product labels and packaging prior to use. Atelier items may vary in their shape, color, or size. The sale of artwork will be handled by the purchaser directly with the artist. Please note that all accessories, as well as additional items and/or ingredients pictured here with the product you are purchasing, are not included. All content and information provided here is for personal use only. It may not be reproduced in any way without FRIEDA's prior consent.