2020
Materials: Cut paper collage. Metal frame.

Size: 14" x 17" (framed)

All purchases of artwork are handled directly between the buyer and the artist Contact.

Currently I work primarily in cut paper collage, perhaps better described as "assemblage." My pieces are fairly realistic because I wish to create colorful, generally cheerful images of the people and places that give me pleasure. I have chosen to work in a method of my own invention, which is time-consuming and somewhat tedious, yet results in the creation of work that looks playful, even easy.
My early works were watercolors with an emphasis on florals and landscapes; I seldom included people in the compositions. But after switching to cut paper collage, I now always include people. I think of them as paper dolls. I work from my own photographs and am constantly in search of the perfect subject.
In the future, I would like to find ways of working larger, which is hard to do without limiting my paper sources, and working faster. This remains a pipe dream.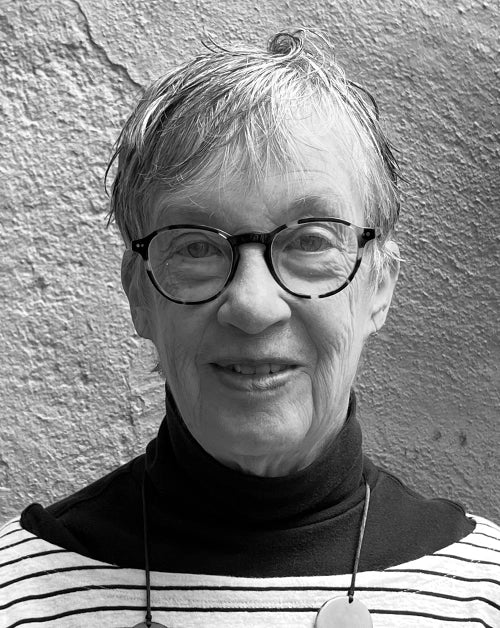 Sara's work was selected for the "PEOPLE" group exhibition at FRIEDA (June 2022 – August 2022). She also participated in one of our ongoing community art projects "The FRIEDAcommunity neighborhood map".

I came to art when I was nearly 50, by taking a basic drawing class at the University of the Arts, shortly after leaving a career in finance at a large Philadelphia corporation. Several classes later, in drawing and watercolor at local art schools and community art centers, I had found my new "career path." I have showed and sold my work at a co-op gallery in Maine, at local community art centers and at private shows. Initially I concentrated on floral paintings, with a passion for zinnias, and Maine landscapes. It often takes me many weeks to complete a single piece, even though each is fairly small. To reach a wider audience, I have self-published three books of my work with accompanying text. The most recent book, Cut Paper Philadelphia, contains cut paper images of people and places, primarily in my Philadelphia neighborhood.
You can find more of Sara's work at her website.
Disclaimer
While every care has been taken to ensure that our product information is accurate, we recommend that you always check product labels and packaging prior to use. Atelier items may vary in their shape, color, or size. The sale of artwork will be handled by the purchaser directly with the artist. Please note that all accessories, as well as additional items and/or ingredients pictured here with the product you are purchasing, are not included. All content and information provided here is for personal use only. It may not be reproduced in any way without FRIEDA's prior consent.