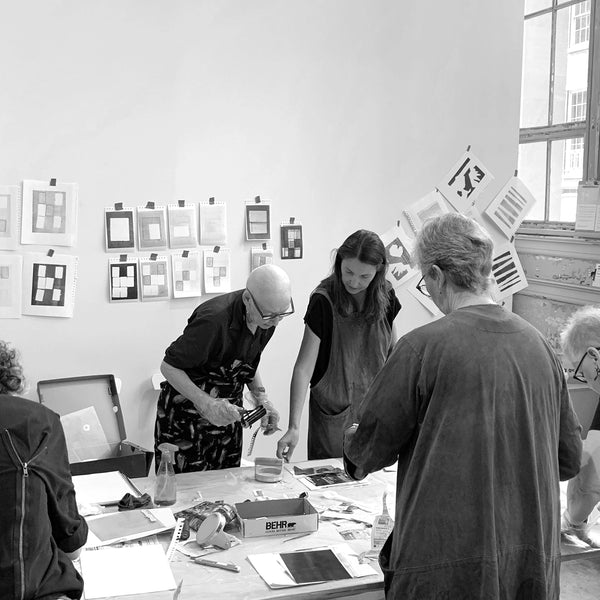 Agathe Bouton was selected to exhibit in the show titled HOME at FRIEDA (June-August 2019). She also shared her artistic and creative thinking process during the "Monoprint Workshop" on June 9, 2019.

Agathe is a French artist living and working in Philadelphia whose boundary-pushing printmaking and paper works exhibit influences from living and working in international cities across the globe. Bouton earned her BFA in Painting and Printmaking and her MFA in Arts and Textile Design from the prestigious ESSAA Duperré in Paris, France. Since leaving Paris 13 years ago, Bouton has lived and exhibited her work internationally in Paris, France; London, UK; Philadelphia, USA; Rangoon, Burma/Myanmar; Abidjan, Ivory Coast, Dakar, Senegal and Istanbul, Turkey. She has presented solo exhibitions at the Biennale de l'Art Africain Contemporain in Senegal; Rathaus House in Germany; Centre d'Arts Plastiques Albert Chanot in France; Bundaberg Art Centre in Australia; Galerie Od'A in Turkey; River Gallery in Burma/Myanmar; and the Bettie Morton Gallery in London.
You can find more of Agathe's work at FRIEDA at 320 Walnut Street or check her website.
Disclaimer
While every care has been taken to ensure that our product information is accurate, we recommend that you always check product labels and packaging prior to use. Atelier items may vary in their shape, color, or size. The sale of artwork will be handled by the purchaser directly with the artist. Please note that all accessories, as well as additional items and/or ingredients pictured here with the product you are purchasing, are not included. All content and information provided here is for personal use only. It may not be reproduced in any way without FRIEDA's prior consent.