Materials: Acrylic, paper and glaze on stretched canvas
Size: 24" x 36" x 1"

All purchases of artwork are handled directly between the buyer and the artist Contact.
As a self-taught artist, I believe and create from a place of "anything is fair game" with my ideas of what can become a piece of art. From found materials and objects bought at estate sales and thrift stores, to more "traditional" paintings and illustrations, I let my imagination connect with the medium.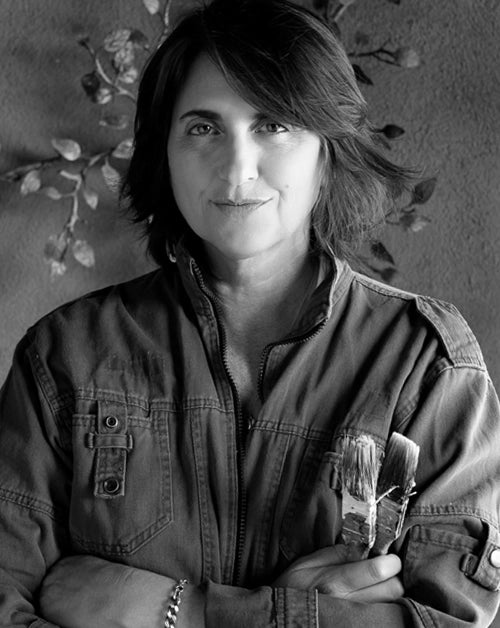 Amy's work was selected for the "PEOPLE" group exhibition at FRIEDA (June 2022 – August 2022).

Amy Turner is a self-taught artist, was born and raised in Los Angeles. She was inspired by her father, who was an artist at heart. Amy would spend hours in his studio and picked up her first brush at the age of 3. Her father taught her to find beauty and art everywhere. Amy creates a varied array of artworks, including paintings, mixed media artwork, digital illustrations, and custom pet portraits. She loves finding odd pieces at yard sales and incorporating the materials in her mixed media artwork. Rescuing reclaimed materials and giving them a creative life in her artwork, keeping their memory alive. Her work has been featured on HGTV, Sundance Film Festival, and in a TV ad for Naked Grape Wine. Among her public installations are a series of murals at Los Angeles elementary schools. Her work is in private and business collections, and she has participated in group shows in California and Philadelphia. She volunteers as an art teaching art for children in hospitals.
You can find more of Amy's work at her website.
Disclaimer
While every care has been taken to ensure that our product information is accurate, we recommend that you always check product labels and packaging prior to use. Atelier items may vary in their shape, color, or size. The sale of artwork will be handled by the purchaser directly with the artist. Please note that all accessories, as well as additional items and/or ingredients pictured here with the product you are purchasing, are not included. All content and information provided here is for personal use only. It may not be reproduced in any way without FRIEDA's prior consent.