2018
Materials: Hand sewn and quilt

Size: 48" x 44"

 All purchases of artwork are handled directly between the buyer and the artist Contact.
My work has a strong social justice component to it as I create images of people or groups who have been marginalized, discriminated against, or abused. My current works depict specific Philadelphians who are living in an area homeless shelter or on the streets. The works provide faces to those who are faceless, nameless and powerless, and they bear witness to those who are suffering. They are primarily hand-sewn large quilts, often using hand-dyed fabric and hand-embroidered batik portraits. They provide very large, graphic images that call attention to those forgotten by society and are visible markers that shout out, "Look at me! See me!"
My work contains two intertwined threads - one poetic, one political - of portraits made in the public realm. My practice is also about making connections with people, and I have formed deep personal relationships with my subjects. My hope is that the work will encourage others to do the same. The portraits serve to empower the people depicted as a tool of self-discovery, helping them see themselves as not just homeless or jobless, but as singular individuals with an important story and history.
During this strange and terrible time, that which is least worthy of conservation has been preserved – finance, tech, and large corporations. Conversely, that which is most worthy of preservation – performing and fine arts, and education have gone through an intense, albeit necessary, shut-down. I believe that what is needed now is art as an antidote that can humanize us in times of chaos, a roadmap for greater clarity, a force of resistance and repair. It's the deconstruction of stereotypes that most interests me in creating portraits of those who have been forgotten by society, those we would rather not see or interact with, especially during these times of fear and social distancing. And yet, if we reduce life merely to preservation, does it in the end become meaningless? I present the idea that now, more than ever, we need to interact with those whom we do NOT identify with, refusing to let our fears prevent us from showing, and sharing, our humanity.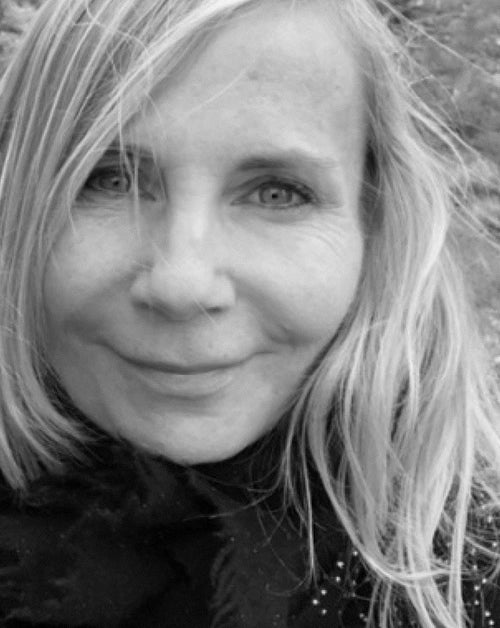 Carolyn's work was selected for the "PEOPLE" group exhibition at FRIEDA (June 2022 – August 2022). She also participated in the artist talk "The unseen" on June 4.

Born in Rochester, NY, Carolyn Harper was educated at Kenyon College (B.A.) and the University of Pennsylvania (M.F.A.). She is an educator and artist, who has taught art at all levels and who exhibits nationally. She also partners with various non-profit organizations to create exhibitions that are specific to their community.
You can find more of Carolyn's work at her website.
Disclaimer
While every care has been taken to ensure that our product information is accurate, we recommend that you always check product labels and packaging prior to use. Atelier items may vary in their shape, color, or size. The sale of artwork will be handled by the purchaser directly with the artist. Please note that all accessories, as well as additional items and/or ingredients pictured here with the product you are purchasing, are not included. All content and information provided here is for personal use only. It may not be reproduced in any way without FRIEDA's prior consent.