2015
Size: 48" x 60″

Material: Oil on canvas.
All purchases of artwork are handled directly between the buyer and the artist. Contact.
I often ask myself what it means to embody a sense of others in a painting. What it means to capture their gaze with sensitivity to their feelings. And, what it means to directly encounter their emotions as an audience. My art is derived from both the visual presence of empathy, and a sense of depth in a field and the focus on subjects that both invite a guest and a host a set of feelings that I intend as a meeting between the two.
I think deeply on the influence of looking, finding, and the presence of emptiness in creating a sense of accompaniment. Inspiring new guests through the actors and their sense the setting in a place I want to cherish.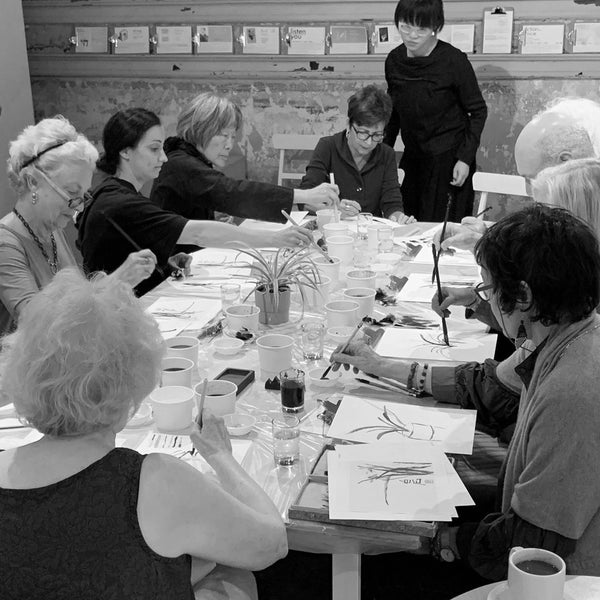 Zui was selected to exhibit in the curated show VOICES at FRIEDA (September-November 2019). She also shared her artistic way of thinking during the workshop "Action as Voice" - a Calligraphy & Life Tracing workshop on October 15, 2019.

Ziui Chen Vance received a MFA from The Stamps School of Art and Design, University of Michigan where she was awarded a research fellowship to investigate product design and interface systems for visually impaired persons. She earned a BA in Industrial Design from The Academy of Art and Design, Beijing, and studied painting at The Sichuan Fine Arts Academy, Chong-Qing, China. As an artist and product designer with 25 years of calligraphy and painting training and a partner in UVXYZ focused on establishing socio-spatial equilibriums through design, Ziui's interests are in imagining new objects based on the visual language of emotions. She has displayed her work in national and international galleries. Ziui has worked with a variety of internationally renowned companies to perfect their visual brand. Most notably are Lining sportswear, EbayChina, and Siemens (New Jersey) where she worked on domestic interface systems.
You can find more of Zui's work at FRIEDA at 320 Walnut Street or check his website.
Disclaimer
While every care has been taken to ensure that our product information is accurate, we recommend that you always check product labels and packaging prior to use. Atelier items may vary in their shape, color, or size. The sale of artwork will be handled by the purchaser directly with the artist. Please note that all accessories, as well as additional items and/or ingredients pictured here with the product you are purchasing, are not included. All content and information provided here is for personal use only. It may not be reproduced in any way without FRIEDA's prior consent.